The best location in Český Krumlov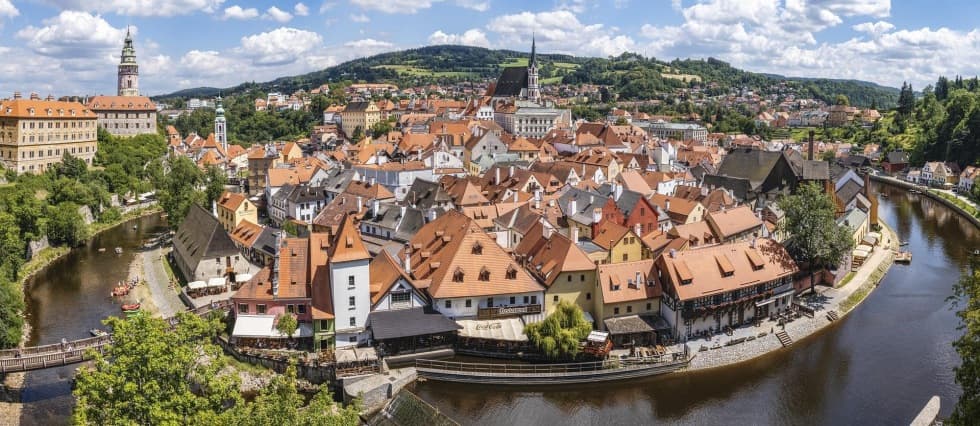 The best possible address for your stay
Located in the very heart of the UNESCO World Heritage town of Cesky Krumlov, the Hotel Bellevue is an ideal place for lovers of history and culture. Our hotel is located near the Castle and Chateau with its beautiful gardens, Baroque Theatre, International Art Gallery and Gallery of Czech Culture. The newly-rebuilt monastery and cloister flank the hotel on each side, while the main thoroughfare leads stright through the Budejovicka Gate to the Hotel Bellevue entrance.
Address
Latrán 77,
381 01 Český Krumlov
Navigovat
GPS
48.8135931N
14.3173694E
Amadeus WV PRG0DM
Galileo WV A4867
How to find us?
After reaching Český Krumlov from the direction of České Budějovice, follow the overpass in the direction of Lipno nad Vltavou/Černá v Pošumaví. After going under the overpass, take your first right again over the bridge. Pass through Budejovicka Gate, and drive another 100 metres to our front entrance. As it can be a bit confusing, we recommend entering the GPS coordinates or the hotel address into your navigation before you set off on your journey.
Where to park?
After you arrive into town, drive straight through Budejovicka Gate, go another 100 metres straight to the hotel building. Although the hotel is situated in a pedestrian area, there is short-term (20 minute) parking in front of the hotel. After unloading your luggage, we will show you the nearby Eggenberg Brewery parking area. We kindly request you to not leave your car parked in front of the hotel for a longer period, or your car may be towed away. The hotel can not take responsibility for this.
Transport – we will gladly arrange for your transport from the airport, railway station or from any other place in Prague, Czech Republic or from abroad. We are happy to furnish more information about this on request.
Highlights of Český Krumlov and the hotel's surroundings
Sights
Castle and Chateau Český Krumlov – 400 m
Premises of monasteries Český Krumlov – 80 m
Castle and Chateau gardens – 600 m
Revolving theatre - 2 300 m
Museum Photo Atelier Seidel​ - 850 m
Egon Schiele Art Centrum - 600 m
Cloak bridge - 600 m
Jewish synagogue - 1 000 m
St. Vitus church – 500 m
Destinations
Václav Havel airport – 187 km
Prague – 172 km
České Budějovice – 24,7 km
Hluboká nad Vltavou - 33, 3 km
Lipno nad Vltavou – 40 km
Hallstatt – 209 km
Vienna– 249 km
Salzburg - 217 km
Linz- 85 km